Entrepreneur Session: Keys to Overcoming the Seed Phase - What I'm glad I did, What I Should Have Done - 9/16(Thu) 14:00~14:50
In the Entrepreneur Session, startup entrepreneurs who have reached the growth phase where they have solidified the direction of their products and services and who are expanding their businesses, discuss their success stories and the obstacles they have encountered, as well as the challenges that startups in FGN will face in their next stage of growth and how to overcome them.  We also aim to build connections among startups by sharing our challenges.
In this session, you can ask questions to the speakers. Please click the button below to submit your questions.

Speakers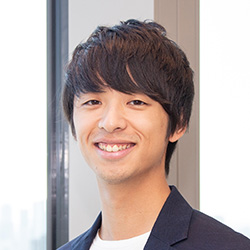 小川 嶺 Ryo Ogawa
Timee, Inc.
CEO
https://timee.co.jp/
Born on April 13, 1997. When he was a high school student, he got an interest in entrepreneurship and interned at Recruit and CyberAgent. In August 2017, he launched Recolle, Inc., an apparel-related business, but decided to change the business within a year. On August 10, 2018, he launched the "Taimie" service, a skim job application. With the vision of "enriching each person's time", he aims to create a platform that allows people to work easily in a variety of industries and jobs.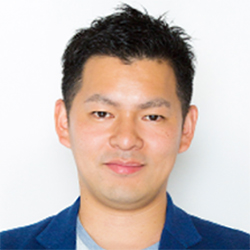 柴田 憲佑 Kensuke Shibata
Crevo Inc.
CEO
https://crevo.jp/
He started playing ice hockey as a child, and was selected for the U18 national team at the age of 16. In high school, he studied abroad in Halifax, Canada. In 2005, he enrolled in the Faculty of Commerce at Chuo University, and while playing ice hockey, he joined the Entrepreneurship Seminar, where he met student entrepreneurs and was inspired by them. He later worked as an intern at an web advertising agency, Recruit, and DeNA. He joined the Softbank Group in 2009, and after working in corporate sales and sales planning, he joined the Softbank Academia as a first-year student, and in 2011, he became a member of the "Earthquake Disaster Reconstruction Project" under President Son. In 2012, he won the top prize in the "Entrepreneurship Challenge" organized by Skylight, and decided to start his own business.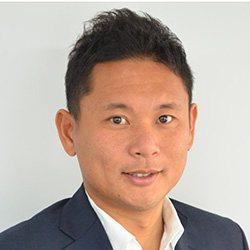 Graduated from Oregon State University with a degree in Business Administration. He was engaged in corporate planning and new business development at venture companies such as Raccoon Inc. and IDOM Inc. and strategy consulting at Corporate Direction Inc. After serving as Executive Vice President of Green Innovations Holdings, Inc. a construction venture company, he established Local Works, Inc. in 2014.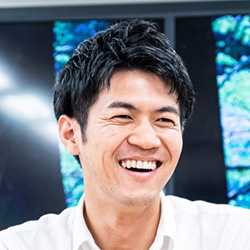 Graduated from Kyushu University, Faculty of Bioresources and Environmental Sciences. Master of Agriculture. After graduating, he joined a general trading company, where he was engaged in grain trading, food import/export, and other businesses related to food and agriculture. When he was stationed in Southeast Asia for a short time, he was in charge of planning new projects in the region. Currently, he is in charge of the planning and management of government startup support projects, new business launch support, business matching and collaboration support between startups and major companies, and is in the front line of communication with venture business owners in various parts of Kyushu.